Union Budget 2012 - Highlights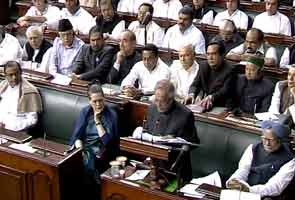 New Delhi:
Finance Minister Pranab Mukherjee presented the Union Budget for the year 2012-13, his seventh. At the very beginning of his speech Mr Mukherjee said that a "year of recovery interrupted" meant that it was time to take tough decisions. The idea ahead of the budget was that fiscal deficit needed to be controlled by cutting subsidies and raising taxes. The finance minister has raised taxes and promised cuts in subsidies. Here are the highlights of the Budget.
Income tax exemption limit raised to

R

s.

2 lakh to provide relief of R

s.

2,000 for all assessees; 20 per cent tax on income over R

s.

10 lakh, up from R

s.

8 lakh.
Deduction of up to

R

s.

10,000 from interest from savings bank accounts.
Defence to get

R

s.

1.93 lakh crore during 2012-13.
Service tax rate raised from 10 per cent to 12 per cent to bring in

R

s.

18,660 crore.
Number of proactive steps taken on black money (stashed away abroad); information has started flowing in, prosecution to be initiated; White Paper in current session.
No change in corporate taxes but measures to enable them better access funds.
Withholding tax on external commercial borrowings reduced from 20 per cent to five per cent for power, airlines, roads, bridges, affordable houses and fertiliser sectors.
National Skill Development Fund allocated

R

s.

1,000 crore.
Four thousand residential quarters to be constructed for paramilitary forces with an allocation of

R

s.

1,185 crore.
National Population Register to be completed in two years.
Excise duty raised from 10 to 12 per cent.
Cinema industry exempted from service tax.
Branded silver jewellery fully exempt from excise duty.
Customs duty on warning systems/track upgrade equipment for railways reduced from 10 per cent to 7.5 per cent.
Import duty on equipment for iron ore mining reduced from 7.5 to 2.5 per cent.
Allocation of

R

s.

200 crore for research on climate change.
Irrigation and water resource company to be operationalised.
National mission on food processing to be started in cooperation with state governments.
Integrated Child Development Scheme to be strengthened and restructured with allocation of

R

s.

15,850 crore.
Allocation of

R

s.

14,000 crore for rural water supply and sanitation.
Infusion of

R

s.

15,888 crore in public sector banks, regional rural banks and NABARD in 2012-13.
Infrastructure will require

R

s.

50 lakh crore in 12th Plan, half of this from the private sector.
Completion of highway projects 44 per cent higher than in previous fiscal.
External commercial borrowing of up to $1 billion permitted for airline sector.
External commercial borrowings permitted to low-cost housing sector.
From 2012-13, full subsidies for providing food security; in other sectors to the extent the economy can bear this.
Hope to raise

R

s.

30,000 crore from disinvestments.
New equity savings scheme to provide for income tax deduction of 50 per cent for those who invest

R

s.

50,000 in equity and whose annual income is less than R

s.

10 lakh.
Corporate market reforms to be initiated.
Bills on micro-finance institutions, national land bank and public debt management among those to be introduced in 2012-13.
Addressing malnutrition, black money and corruption in public life among five priorities in year ahead.
India's inflation structural, driven largely by agricultural constraints.
Current account deficit 3.6 per cent in 2011-12; this put pressure on exchange rate.
Growth in 2012-13 estimated at 7.6 per cent; expect inflation to be lower.
Better monitoring of expenditure on government schemes.
Fiscal 2011-12 year of recovery interrupted; reality turned out to be different.
GDP growth in 2011-12 estimated at 6.9 per cent; had to battle double digit inflation for two years.
Good news: agriculture and services continued to perform well; economy is now turning around; recovery in core sectors.
Now at juncture where it is necessary to take hard decisions; have to accelerate pace of reforms.
Nitesh Kumar-PGDM-2
This entry was posted on at 12:54 AM. You can follow any responses to this entry through the RSS 2.0. You can